Save 20% on everything we offer from now to midnight Monday! Simply type in TK2015 ( case sensitive, no spaces ) into the coupon field of the shopping cart when you check out, and the discount will be applied. ( You must type the code into the coupon field to get the discount )

Make you home smell wonderful and receive the helpful benefits of Aromatherapy at the same time. It is now understood that much of the healing effects of plants come from the essential oils of the plant, the part that produces the natural fragrance of the plant.
By using our pure essential oils in the diffusers below, you will release both the wonderful fragrance of the oil, plus enjoy the benefits of nature's gifts.
NOTE:
An essential oil is the fragrant essence extracted from flowers, fruit or spice. Almost all expensive perfumes are made from these oils. They are very concentrated, and a few drops go an amazingly long way. One drop of oil is roughly equivalent to a handful of fresh herbs. Each ounce of essential oil contains about 360 drops of pure oil.
We offer the following Aromatherapy grade essential oils :
REO01 Anise
Anise has been cultivated in Egypt and known to the Greeks, Romans and Arabs, who named the plant anysun. Since Antiquity it has been used as a flavoring spice in recipes and as a diuretic, to treat digestive problems and to relieve toothache. Anise seeds are known for their ability to reduce flatulence and colic, and to settle the digestion.
They are commonly given to infants and children to relieve colic, and to people of all ages to ease nausea and indigestion. It also has an expectorant and antispasmodics action that is helpful in countering period pain, asthma, whooping cough and bronchitis. The mild hormonal action of anise seeds may explain its ability to increase breast-milk production and its reputation for easing childbirth and treating impotence and frigidity. Anise essential oil is used externally to treat lice and scabies. Thought to be a aphrodisiac by some, use as a heart stimulant in some cases.
REO02 Bay Oil
Pimento racemosa. From the West Indies, this oil is said to repel insects, also used to flavor foods and adds a spicy to colognes and perfumes. Soothes itching skin. A brisk, fresh and spicy sweet aroma. Often used in hair and scalp treatments for dandruff, greasy/lifeless hair, and for promoting growth. Also good for sore muscles, joints and circulation.
Rousing, Stimulating, Clarifying
REO03 Bergamot
Citrus bergamia ( Italy ).
Bergamot oil is cold-pressed from the peel of the nearly ripe fruit. The aroma of bergamot oil is fresh, lively, fruity and sweet. It is an excellent deodorizer. It contains a constituent called bergaptene that increases the skin's sensitivity to sunlight, so one should avoid using bergamot when there is a possibility of exposure to sunlight. Aromatherapy benefits: uplifting, inspiring, confidence-building.
A fresh, sweet citrus smell, most notably used in Earl Grey teas. Known for its warm and balancing effect on emotions. Extensively used as a fragrance, and for skin care.

REO48 Black Pepper Blend
Piper Nigrum ( India )
20% in base of coconut oil. Food Grade. Steam Distilled.
With a pungent aroma it stimulates and tones. Warming oil during the cold winter season. Ideal for massaging on abdomen and muscles. Use in pre-sports or dance rub to help maintain suppleness. One of the earliest used spices, Interesting effects happen when it is used in perfume blends. It blends well with Rose, Rosemary, Marjoram and Lavender, but should only be used in small amounts. Crisp, fresh, peppercorn aroma. Uses: Aching muscles, arthritis, chilblains, constipation, muscle cramps, poor circulation, sluggish digestion.
REO04 Camphor
Cinnamomum camphora- A clear with a characteristic "camphor-like" aroma. It is used in pain relieving blends and due to its anti-inflammatory effect, may help relieve pain form arthritis, rheumatism, sprains and other muscular aches. Restorative, Balancing, Refreshing It is most commonly inhaled or applied externally in rubs for muscular aches or any condition of the respiratory tract.
REO05 Caraway
Carum carvi- The warm aroma of Caraway is somewhat like anise or black licorice. Essential Oil is obtained from steam distilling the seeds, and as with many seed type oils, it is indicated for digestive complaints. Caraway Oil is also used to stimulate a healthy complexion by using a drop or two in a facial steam!
REO50 Cedar Leaf
Thuja occidentalis(United States).
Also know as Thuja oil , Arborvitae, tree of life, white cedar, yellow cedar, American cedar.
Externally, herbalists use an infusion of thuja as a wash for infectious skin diseases such as impetigo or scabies. An ointment is a reputed cure for warts. A hot compress eases rheumatic pains.
Aromatic, astringent, diuretic.. The decoction has been used in intermittent fevers, rheumatism, dropsy, coughs, scurvy, and as an emmenagogue. The leaves, made into an ointment with fat, are a helpful local application in rheumatism.
Common Uses: Amenorrhea, Bronchitis, Cough, Fungus, Gout Psoriasis, Rheumatoid arthritis.
Properties: Abortifacient, Antibacterial, Aromatic, Arthritis, Astringent, Coagulant, Depurative, Diaphoretic, Expectorant, Nervine, Refrigerant, Styptic, Vermifuge.
Not to be used in pregnancy. The oil contains thujone, which has a high toxicity,so the herb should only be taken in small doses for short periods of time. Thuja should be used as prescribed by a qualified practitioner.
REO06 Cedarwood
Juniperus mexicana (United States).
Rich woody aroma. Adds body and warmth to fragrance blends. Particularly beneficial on oily skin. Often added to wood (or cedar) chests to add cedar scent.
Calming, Comforting, Strengthening.
REO08 Celery Seed
Apium graveolens India.Extraction: Steam distillation of the seeds.
Mainly used as a spice. Nourishing, Warming
REO07 Citronella
Cymbopogen Winterianus Ceylon. Extraction: Steam distillation of fresh grass.
Perhaps most famed for its reputed ability to keep insects away. A popular ingredient in natural repellents, candles and even soaps. It has a fresh lemon-like aroma that many people find pleasant, even if mosquitoes don't!
Because of its association with insect repellency, citronella is usually overlooked as an aromatherapy oil. That's a shame because citronella possesses warming and activating qualities on both the physical and mental levels.
Physically, citronella will produce a subtle sensation of warmth when properly diluted in a massage oil and applied to the skin. Dilute 3 drops of essential oil per teaspoon of massage oil. Using this in a friction massage may help bring relief to painful joints and muscles. Perform a simple friction massage by rubbing a targeted area vigorously until warmth is produced by the friction. The idea is to bring blood and soothing warmth into the affected area. Combine citronella with eucalyptus to heighten this effect, or use lavender to make the effect more moderate and balancing.
REO09 Clary Sage
Salvia sclarea- A warm, sweet, somewhat peppery herbal aroma that is used for its relaxing, hormone-balancing, even euphoric affects. In the past, Clary Sage has been added to inferior wines to enhance their quality. Clary Sage is useful for menstrual difficulties including tension and cramping.
REO10 Clove, Natural
Eugenia caryophyllata- This oil is tan to brown in color and has a deep, spicy aroma. It has been used to help relieve an aching tooth by applying a drop to a cotton ball, then applying to the tooth. It works as a local anesthetic until proper dental care can be done. It is a warming oil that can also be used to help stimulate circulation. Try blending a little clove oil (cinnamon works too) with a carrier oil for a foot massage to warm cold feet!
Medicinal Action: Clove relieves toothaches, flu, sore muscles, arthritis, colds and bronchial congestion. It destroys intestinal parasites and is a good addition to a heating liniment.
Cosmetic/Skin Use: An antiseptic and antifungal, diluted clove oil may be dabbed on scabies or athlete's foot.
Emotional Attribute: Small doses are stimulating, helping to overcome nervousness, mental fatigue or poor memory. Cautions: The oil is irritating to skin and mucous membranes, so use it in 1-percent

REO11 Cumin
Cuminum Cyminum (Egypt).
Helps digestive disorders, anemia, migraine, allergies, antioxidant, antiseptic, immune builder, blood cleanser. Also used as a spice.
REO12 Dillweed
Anethum graveolens. Dill Weed Oil is also known as Dill Herb Oil. The dill plant, Anethum Graveolens, has been used since the earliest times as a medicinal and culinary herb. It is native to the mediterranean and Black Sea regions and is now cultivated world wide, especially in China, Europe, India and the USA. Dill Weed Oil is distilled from the partially dried, fully grown herb which is harvested immediately prior to maturity of the seed and has a powerful and fresh, sweet spicy, peppery and aromatic odor. The oil is used extensively in beverage and foodstuffs also as a fragrance component in cosmetics, detergents, perfumes and especially soaps.
Fresh, nutty scent. Properties: Digestive, Prevents Flatulence, Helps Digestion, Helps with Dyspepsia, Increases Appetite, Helps with Heartburn, Reduces Nausea, and useful for Colic.
REO14 Eucalyptus
Eucalyptus globulus (China)
Fresh, stimulating, and clearing when used as an inhalant. Used extensively in massage, liniments and other topical applications. Very versatile oil especially popular for muscular fatique. Also used in saunas, and as a flavoring for cough drops and syrups. Balancing, Cleansing, Stimulating
REO15 Fennel Seed
Foeniculum vulgare- The anise-like aroma of Fennel is used to help the digestion of fats in the body. Often used to help detoxify the body. This oil is a tonic to the digestive system and has general strengthening characteristics. It is usually preferred in small quantities, since the aroma can be fairly strong. Can also be used in a poultice for bruising or a compress for sore eyes. Used in insect repellants, and to increase milk production for nursing mothers.
REO20 Ginger
Zingiber officinale. The fragrance is spicy, warm and sharp. Ginger oil treats colds, fevers, appetite loss, indigestion, nausea, and genital, urinary and lung infections, and is anti-inflammatory. It makes a warming liniment. It destroys many types of intestinal parasites. Studies show it increases drug and herb absorption, normalizes blood pressure and helps protect the liver. Ginger is a stimulant and aphrodisiac.
REO21 Grapefruit
This oil is all natural, and used as both a flavoring and an essential oil.
Flavoring: An unsweetened, professional flavoring that is 3-4 times stronger than extracts. Can be used in a variety of flavoring applications.
Essential Oil: Citrus paradisi (United States). Citrus aroma and flavor characteristic of the fruit. Naturally antiseptic and high in vitamin C. Employed in skin, bath and massage preparations. Uplifing, Refreshing, Stimulating. Certified Kosher and Parve Note: slightly phototoxic; may cause sensitization in some individuals.
REO22 Hemlock Oil Spruce
If you are seeking an essential oil that smells most like a "Christmas tree", this is the one!
Abies canadensis United States.Extraction: Steam distillation from the needles.
Fresh pine scent. Antiseptic, astringent, diuretic, tonic. Calming, Woody
REO23 Juniper Berry
Juniper communis. Juniper is used in the treatment of arteriosclerosis, rheumatic pain, general debility, and congestion-related problems such as varicose veins, hemorrhoids, fluid retention and cellulite. It is a genital and urinary tract antiseptic, a circulatory stimulant, and it increases stomach acid.
Juniper is suitable for acne, eczema, and greasy hair or dandruff.
Juniper is good for those with mental fatigue, insomnia and anxiety and for those who are emotionally drained. It provides a feeling of protection when the demands of others pull too strongly.
Caution: Juniper can be harsh on the kidneys, so choose a more gentle oil if they are inflamed. Avoid use while pregnant.
REO24 Lavender Oil NF ( Pure )
Lavendula officinalis (France).
Floral scent highly sought after both as a fragrance and for its therapeutic qualities, natural antiseptic and even insect repellants. Well-established traditional folk remedy for burns, sunburns, acne and nervous tensions. Balancing, Relaxing, Soothing
REO25 Lemon
This is a natural flavor. Used as both a flavoring and as an essential oil.
Flavoring: An unsweetened, professional flavoring that is 3-4 times stronger than extracts. Can be used in a variety of flavoring applications. Use as a candy flavor, for baking and even in marinades. It's ideal as a substitute for grated lemon zest in any recipe!
Essential Oil: Citrus limonum (United States).
Cold expression (peel). Widely used as a flavoring and stimulating when used in skin treatments. Photosensitizing and should not be used directly on the skin before exposure to the sun. Refreshing, Stimulating, Uplifting.
Certified Kosher and Parve.

Caution: Lemon can be photosensitizing and irritating to sensitive skin.
REO27 Lemon Grass
Cymbopogon citratus. It has a distinctive lemon-herbal, slightly bitter fragrance. It is antiseptic and treats pain from indigestion, muscle cramps, rheumatism, nerve conditions and headaches. It is also an effective anticoagulant.
Lemongrass counters oily hair, acne, skin infections, scabies and ringworm. It is also deodorant. The fragrance is sedating and soothing
Caution: Nontoxic, but it causes skin sensitivity in some people. Lemongrass will burn the skin if not sufficiently diluted
REO28 Lime Oil Natural
This oil is all natural and is used as both a flavoring and as an essential oil.
Flavoring: An unsweetened, professional flavoring that is 3-4 times stronger than extracts. Can be used in a variety of flavoring applications. Certified Kosher and Parve.
Essential Oil: Citrus aurantifolia (West Indies)
Steam distillation (leaves, flowering tops). Lively, fresh green scent. Used in bath, massage, room sprays and perfumes. Shares many qualities with lemon. Cheering, Refreshing, Uplifting

REO29 Marjoram
Origanum marjorana
Has a warm; penetrating; peppery fragrance. Marjoram essential oil is obtained from the flowering heads and leaves of the herb, marjoram is a wonderfully relaxing and comforting essential oil, which is also warming and fortifying. Add marjoram to your evening bath or use a drop on your pillow to promote a restful night, or use in a massage blend after exercise to warm the muscles and maintain suppleness

REO30 Nutmeg
This oil is all natural and used as both a flavoring and essential oil..
Flavoring: An unsweetened, professional flavoring that is 3-4 times stronger than extracts. Can be used in a variety of flavoring applications. Certified Kosher and Parve.
Essential Oil: Oleum Myristacae United States.
Extraction: distilled from dried kernals of the ripe seed. Helps with arthritis, and muscle aches. Used mainly as a spice.

REO31 Orange Oil ( Sweet )
Citrus sinensis. The scent is perky and lively. Good for oily complexions. Orange treats flu, colds, congested lymph, irregular heartbeat and high blood pressure. The sedative fragrance counters depression, hysteria, shock and nervous tension.
Note: The oil is slightly photosensitizing.

REO32 Origanum Oil
Origanum Labiatae family Spain Steam distillation. Pungent, spicy, thyme-like odor. Refreshing
Analgestic, anaphrodesiac, anti-oxidant, antiseptic, antispasmodic, antiviral, bactericidal, carminative, cephalic, cordial, diaphoretic, digestive, diuretic, emmenagogue, expectorant, fungicidal, hypotensive, laxative, nervine, sedative, stomachic, tonic, vasodilator, vulnerary.
Oregano is a good effective sedative. Tests have shown that it is one of the most effective oils to relax brain waves. It is a calm relaxing oil that can ease muscle spasms, stiff joints, coughing, indigestion and menstrual cramps. It has been used as a traditional remedy for digestive upsets, respiratory problems (asthma, bronchitis, coughs, etc.) colds, and flu as well as for inflammations of the mouth and throat. In China it is also used to treat fever, vomiting, diarrhea, jaundice and itchy skin conditions. The (diluted) oil has been used externally in herbal medicine for headaches, rheumatism, general aches and pains, and applied to stings and bites. Used as a fragrance component in soaps, colognes and perfumes, especially men's fragrances. Oregano is also employed to some extent as a flavoring agent, mainly in meat products and pizzas.
Blends well with lavender, rosemary, bergamot, chamomile, cypress, cedarwood, tea tree and eucalyptus.
Caution: Non toxic, non irritant, non sensitizing, but should not to be used during pregnancy.

REO33 Patchouli Oil Select
Pogostemum cabin. The fragrance is heavy, earthy, woody, musty, vanilla-like and most distinctive. It helps reduce appetite, water retention, exhaustion and inflammation.
As a cell rejuvenator and antiseptic, the oil treats acne, eczema, inflamed, cracked or mature skin, and dandruff. As an antifungal, it treats athlete's foot.
Patchouli counters nervousness and depression by putting problems into perspective and releasing pent-up emotions. Though an aphrodisiac, it helps insomnia.

REO34 Pennyroyal
Mentha pulegium. A pale yellow or pale yellow liquid with a very fresh, minty-herbaceous odour. Blends well with: geranium, rosemary, lavandin, sage and citronella. Actions: Antiseptic, antispasmodic, carminative, diaphoretic, digestive, emmenagogue, insect repellent, stimulant. Safety data: Oral-toxin. Abortifacient (due to pulegone content). Ingestion of large doses has resulted in death! Do not take internally!

REO35 Pine Needle
Pinus sylvestris. Pine Essential Oil is regarded as an excellent remedy for all types of respiratory problems, particularly as an inhalant for treating bronchial congestion, colds, sinusitis and catarrh. Pine oil may also help relieve more serious conditions such as lung infections, emphysema and pneumonia. Furthermore, with strong antiseptic and expectorant properties, pine oil combats the effects of heavy smoking, while simultaneously enhancing tissue oxygenation.
REO36 Peppermint
This oil is all natural and used as both a flavoring and as an essential oil.
Flavoring: An unsweetened, professional flavoring that is 3-4 times stronger than extracts. Can be used in a variety of flavoring applications. Certified Kosher and Parve
Essential Oil: Mentha piperita (United States). Steam distillation (whole plant). Powerful minty scent. Has a cooling effect on the skin and a warming, penetrating effect on sore muscles and joints. Used extensively in massage and in foot-care.
Invigorating, Refreshing, Stimulating


REO37 Rosemary
Rosemarinus officinalis. The powerful fragrance is herby, sharp and camphorous. Rosemary is one of the best stimulants. It also improves poor circulation, lowers cholesterol, eases muscle and rheumatism pains, and treats lung congestion, sore throat and canker sores. It stimulates the nervous system, motor nerves, adrenals and a sluggish gallbladder. It is often used in penetrating liniments.
An age-old remedy for dandruff and hair loss, the branches were even used as hair brushes. Rosemary helps sluggish, underactive skin, and is used on dry, mature and couperose skin types. It also helps in the treatment of cellulite and skin parasites.
Rosemary improves memory, confidence, perception and creativity, and helps balance mind and body. It prevents dizziness, dark thoughts and nightmares (and helps you remember the good dreams). The smoke was inhaled for brain weakness. (As Shakespeare said, "There's rosemary, that's for remembrance . . . ") Note: Rosemary can overstimulate, and may increase blood pressure.
This item is currently out of stock, if you would like to be notified by E-mail when it becomes available again, simply enter your E-mail address in the field below and hit "Submit".
REO40 Rosewood
Aniba rosaeodora. Rosewood, or bois de rose, is a tropical tree growing wild in the Amazon basin. It has a sweet-woody, floral-nutmeg aroma that finds extensive use in fantasy-type perfumes and colognes. It is also used to scent soaps, creams, lotions, bath oils and massage oils. Aromatherapy benefits: gently strengthening, calming.
REO39 Spearmint
This oil is all natural and used as both a flavoring and as an essential oil.
Flavoring: An unsweetened, professional flavoring that is 3-4 times stronger than extracts. Can be used in a variety of flavoring applications.
Essential Oil: Mentha viridis (United States). Steam distillation (whole plant). Fresh, minty scent.
Invigorating, Refreshing, Stimulating. Certified Kosher and Parve
REO41 Tangerine
This oil is all natural, and used as both a flavoring and an essential oil.
Flavoring An unsweetened, professional flavoring that is 3-4 times stronger than extracts. Can be used in a variety of flavoring applications. Certified Kosher and Parve.
Essential Oil: Citrus reticulate (United States)
Sometimes known as Mandarin. Used extensively as a fragrance and a flavor. Like other citrus oils, naturally antiseptic and a good astringent for oily skin. Cheering, Inspiring, Strengthening.
REO42 Tea Tree Oil
Melaleuca alternifolia/ The scent is similar to eucalyptus, but softer. A good immune-system tonic, tea tree fights lung, genital and urinary, vaginal, sinus and mouth infections. It counters fungal infections and viral infections such as herpes, shingles, chicken pox, candida, thrush and flu.
Tea tree treats diaper rash, fungus, acne, wounds and insect bites. It protects the skin from radiation burns during cancer therapy. It is one of the most nonirritating antiseptic oils, although this varies with the species.
The scent builds strength, especially before an operation and during postoperative shock.

REO43 White Thyme
Thymus vulgaris. The scent is strong, herbaceous, sweet and medicinal. Thyme is a strong antibacterial for mouth infections. It relieves lung congestion, treats candida and indigestion, and destroys intestinal hookworms and roundworms. It is used in a heating liniment, and was once a specific remedy for whooping cough.
Thyme relieves mental instability, melancholy and nightmares, and prevents memory loss and inefficiency.

REO44 Wintergreen
This oil is all natural and is used as both a flavoring and as an essential oil.
Flavoring: An unsweetened, professional flavoring that is 3-4 times stronger than extracts. Can be used in a variety of flavoring applications.
Certified Kosher and Parve
Essential Oil: Procumens Gaultheria China. Extraction: Steam distillation.
Strongly aromatic with a sweet characteristic odor. Used by beekeepers to kill varroa mites. Perfumery applications, flavoring for chewing gum, soft drinks. Relaxes ligiments. anti-inflammatory, antitussive, diuretic, stimulant.

REO45 Vetiver
Vetiveria zizanoides
Has a smoky; earthy; woody fragrance. Vetiver essential oil is obtained from the roots of the tropical scented grass, Vetiver is described as both relaxing for the body and stimulating for the mind. Vetiver essential oil is great for unwinding when used in the bath or blended with a carrier oil. Vetiver's stimulating action may help keep the circulation in good order, and mixed with a carrier, its antiseptic properties are good for oily skin.
REO46 White Pine
Pinus Strobus United States.
Pine smell. Used in household cleaners and disinfectants.

REO47 Ylang Ylang
Cananga odorata- The 'Flower of Flowers,' YlangYlang Oil is distilled from a flower which has long, droopy petals laden with a sweet, seductive and heady aroma. Long considered an especially potent aphrodisiac, it blends well with Clary Sage, Geranium, Jasmine and Sandalwood. YlangYlang, extra is the oil produced during the first 1-2 hours of distillation and has the sweetest, most exquisite aroma.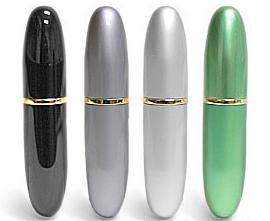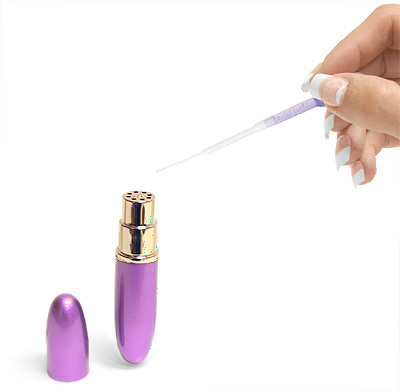 G91 Aromatherapy Diffusers
These silky smooth aromatherapy diffusers will add color and style along with fragrance to your travels. The sealed compartment aromatherapy diffusers (available in these colors only) have non-removable cotton filled glass vial, which works well for essential oils and fragrances. Add essential oils/fragrance to the diffusers easily using one of the included pipettes. Pipette is included with every sealed compartment Aromatherapy Diffuser.
---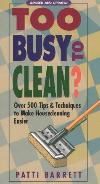 BK866 Too Busy to Clean?
Patti Barrett
Over 500 tips and techniques to make housecleaning easier.
• 152 pages
• Paperback
Return to Rachel's Main Page