---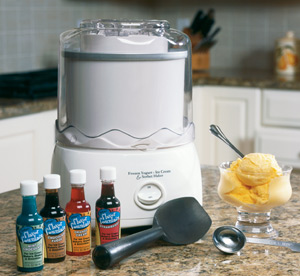 New! For Ice Cream Makers, Shakes & Smoothies. LorAnn's exclusive new line of flavorings especially formulated for home made ice creams, shakes and smoothies. suitable for use in blender, smoothie makers and ice cream makers of all types.
*Sugar-Free!
*Each Bottle flavors and colors 3 quarts of ice cream or 10 shakes
LFF03 Banana Coconut Ice Cream Flavor
LFF01 Black Raspberry Ice Cream Flavor
LFF02 Bubblegum Ice Cream Flavor
LFF04 Butter Pecan Ice Cream Flavor
LFF05 Caramel Delight Ice Cream Flavor
LFF06 Chocolate Fudge Ice Cream Flavor
LFF07 Cinnamon Spice Ice Cream Flavor
LFF08 Mango Ice Cream Flavor
LFF09 Mint Chocolate Ice Cream Flavor
LFF10 Mocha Ice Cream Flavor
LFF11 Orange Cream Ice Cream Flavor
LFF12 Strawberry Ice Cream Flavor
LFF14 French Vanilla Cream Flavor
---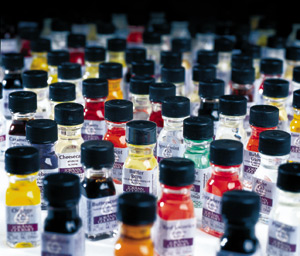 Professional Quality Food Flavorings for the Home Kitchen. We proudly offer the LorAnn Oils line of Professional Food Flavorings, famous for professional strength flavorings for over 40 years.
Unlike diluted grocery store extracts, LorAnn's super-strength flavorings provide tremendous flavor variety and are specially formulated for optimal results in hard candies, chocolates, fudges, frostings, baking and specialty confections, as well as cosmetic applications such as lip balms.
Lorann flavoring oils are generally 3-4 times stronger than extracts since extracts are diluted by significant amounts of alcohol and/or water. These professional flavorings add nothing but great taste and aroma and can be used for a variety of flavoring applications.
All of the flavorings listed below are in One Ounce Bottles. These concentrated flavors go a long, long way, so use them sparingly in recipes.
Flavor Booster-Hot Chili
Kick up your chocolate or hard candy creations with this hot and spicy all natural ingredient. Designed to be used along with other flavors - it's truly a gourmet sensation!
Typical use: 1 teaspoon per pound of candy
Try it along with LorAnn's Mango, Lime, Cherry, or wherever you want a spicy kick of flavor.

New Item! Flavor Booster-Tart and Sour
Sour Apple, Sour Grape, Sour Raspberry and many others are now easier and better tasting than ever. For a boost to any of our fruit flavors, add 1 1/2 teaspoons to our 1-dram candy recipe. Add 3 teaspoons for more pucker power.
Designed to be added along with other flavorings as a flavor enhancer.

Return to Rachel's Main Page